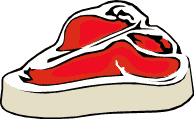 STUFFED PORK CHOPS



Begin this recipe at the butcher in your local supermarket... Ask him to cut your chops 1 and 1/2" thick with pockets...include the bone or boneless....If you want what some may call "stand up pork chops" then I suggest keeping the bone in.

Using a shallow baking dish, place chops pocket side up in pan....
After preparing stuffing, place stuffing into each pocket packing it tightly....
Bake in 350 degree oven for 2 hours.



STUFFING



INGREDIENTS:

1 box of seasoned stuffing; (contains 2 bags)
1 and 1/2 C. chopped celery
1 C. cgopped onion
1 can chopped black olives (optional)
1 C. melted margarine (2 sticks)
3/4 C. water

DIRECTIONS:

Combine all ingredients into a bowl and mix well until all is saturated... stuff chops.

*hint* (you can also bake any leftover stuffing for about 30 minutes in the oven with the chops as an added side dish...



BY: ANGELSTAR (LINDA)

pastorlinda@verizon.net