LAYERED SALAD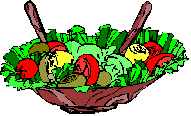 There are many variations, this is my favorite:


Ingredients

1 head romaine lettuce
1 head iceberg lettuce
1 package (10 oz?) frozen peas, rinsed until just thawed
1-2 medium sweetish onions (vidalias are nice), chopped
1 green pepper, chopped
1 cup celery, chopped
1 - 1.5 cups mild cheddar cheese, grated
1/2 - 1 cup parmesan cheese, grated
1-2 cups Hellmann's real mayonnaise
1-2 cups sour cream
2-3 Tbsp. sugar
some more parmesan cheese



Directions

Wash the lettuce. Break into pieces, line the bottom of a [large] bowl. Add layers of peas, onion, green pepper, celery, cheddar, more lettuce, another layer of everything, top with lettuce. Sprinkle parmesan cheese over the top. Combine equal amounts of mayonnaise and sour cream, add sugar, mix well. Spread over the top of the salad. Sprinkle more parmesan on top. Cover and chill 12-24 hours.

Some people say to toss before serving; this makes for soggy leftovers if you don't eat it all. I suggest dishing out portions at a time and tossing the portion separately (keep the rest in layers with the dressing on top, it will be good for a couple of days).