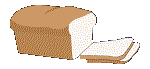 BANANA BREAD




Ingredients

3/4 C. sugar
1/2 C. butter, softened
2 eggs
1 Cup (2 medium) ripe bananas
1/3 C. milk
1 tsp. vanilla
2 C. flour
1/2 C. chopped nuts (optional)
1 tsp. baking soda
1/2 tsp. salt



Heat oven to 350 degrees. Grease bottom of 9x5" or 8x4" loaf pan. In large bowl beat sugar and butter until fluffy. Beat in eggs. Blend in bananas, milk and vanilla. Lightly spoon flour into measuring cup; level off. In small bowl combine flour, nuts, baking soda and salt; mixing well. Add to banana mixture. stir just until dry ingredients are moistened. Pour into greased pan. Bake at 350 degree oven for 50 to 60 minutes or until toothpick inserted in middle comes out clean. Cool in pan 5 minutes; remove. Cool completely on wire rack.